Exterior Doors for Mobile Homes
Exterior doors are the first part of a mobile home that a visitor will first see. This is the first impression they encounter before even entering the home itself. Hence, they are very important and need to be selected appropriately, to not only make a good impression, but to also guaranty safety.
Hopefully this article will bring you the information you need to know about suitable exterior doors for your mobile home.
Do enjoy the read.
Types Of Exterior Doors For Mobile Homes: The benefits of each type
These are the most common exterior doors
used for mobile homes. These types of doors
tend to be on the lower end of quality. They are made with polyethylene panels and then bonded with polyethylene foam insulation in the middle.
My experience is these doors are much easier to kick in and don't hold up as well as steel exterior doors. These doors also seem to weather easier. It only takes a few trips through a mobile home park to find these doors warping upwards on the very bottom edges due to weather conditions.
These particular doors are also difficult to paint. If you are looking to add a unique look to your mobile home this door might not be the best option.
The doors come in different window designs or with no window at all.
These doors, when ordered new typically come equipped. They will have door locks and installation screws. They also come already drilled for a doorknob from the manufacturer for easy installation.
These are one of the more affordable exterior doors for mobile homes. They will typically run you anywhere from $250 – $300 roughly. That does not include installation.
Out-Swing Door With a Diamond Window: Making your door a little more fancy
These are also Out-Swing Doors but the only difference is that they usually have a diamond shaped window at the upper part of the door. A window on the door is nice so you can check for whoever is knocking. You are able to see the person and avoid opening the door if you are not familiar with the person.
Combination Exterior Doors: Screen doors for mobile homes all in one
Another type of exterior for mobile homes is the combination doors. This type of door comes as an all-in-
one unit, hence the name "combination doors." It has a door, a storm door, four-inch jamb, a frame, and hardware needed for the installation of the door.
These types of door are typically steel doors and are very secure compared to other options. When teamed up with a deadbolt it is very difficult to kick these types of doors in.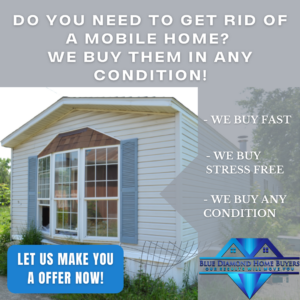 The combination door is also filled with polyurethane, which makes it an energy efficient door. It also comes with door locks and screws for exterior doors and also come already drilled from the manufacturer for the placement of doorknobs.
It is a highly durable door, and it even has folded edges to prevent water from entering the home, which makes it even more durable.
These doors will typically cost in the ballpark of $500 – $700 depending on how elaborate you go. This option is easy to paint and you can match the paint with your shutters. Create a beautiful look for your mobile home by matching the color scheme in different areas. If you are looking to add more character to your mobile home check out our article on mobile home window awnings. Awnings can significantly reduce your cooling bill in the summer months.
How To Choose an Exterior Door For a Mobile Home: What's more important to you
It is imperative that you consider some factors before settling for a particular type of exterior door for your mobile home. Some of the most important factors are:
When it comes to buying exterior doors, beauty and style is not the only important factor that must be considered; safety is highly significant too. So, you should go for a door that can withstand different weather conditions, and also protect the possessions in your mobile home (including you and your family) from any harm.
Security is really important and should be the biggest factor that you consider when replacing your door. Remember doors that have glass are beautiful but they also give people an easy access to your home. Steel doors are best to protect your family and goods inside.
Be sure to secure your door with a good luck as well. You will want to look into a dead lock for the best protection against intruders.
Another critical factor that needs to be considered whenever you are shopping for an exterior door for your mobile home is budget. There are many places where you can shop for exterior doors and compare the prices.
You will also find exterior doors that are manufactured with different materials, each with different quality, advantages and disadvantages. However, the great thing is that you can find the right door that combines appearance, functionality, and budget, and which will be simply perfect for your mobile home.
When you want to buy an exterior door, always remember that you'll use it every day. It is essential to purchase an exterior door that functions well for your mobile home.
Once you have finally bought one that suits your home and budget, the next thing is installation. Most of these doors come with hardware for installation, so you should be able to do it yourself. If you can't do it yourself, you can hire a professional to do it for you.